Fill Your Baseball Card Want List
By Dylan, Baseball Cards Only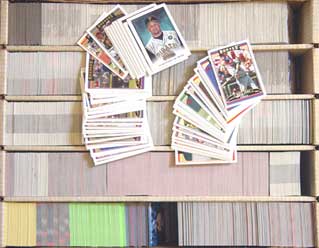 Looking for the last two 1995 Ultra cards you need to finally finish that set, or that elusive 2000 Paramount Moises Alou to flesh out your collection? Did you know that Baseball Cards Only fills want lists? We now have well over 100,000 singles available on the website, but that represents only a small fraction of the cards in our inventory.
We have well over 2 million baseball cards in stock that are not listed on the website, so if you can't find what you are looking for on the website, please email us at richard@bbonly.com and we'll be happy to help you fill out your collection.
Unlike some of our competitors, we have NO minimum order, NO want list handling charges, and NO deposits.
So, if you're a set builder, player collector, team collector, or just a die hard baseball card fan, send us your wantlist today and we'll get right to work filling it!
---
Baseball Cards Only has an extensive inventory of baseball cards for sale on our website, www.bbonly.com! Check out our fully searchable, user-friendly database of well over 100,000 singles!




This page took 0.00068 seconds to load