Baseball Card Lingo: What is a Rookie Card?


As in most hobbies, sports card collectors and card manufacturers have developed a detailed vocabulary to talk about the cards they love. As relatively simple vintage card sets have given way to the complex and multi-tiered sets common today, the lingo associated with the hobby has become more complex. This glossary explains many of the most common terms associated with baseball card collecting today.


For such an important term, rookie cards are surprisingly hard to define. Rookie cards have long been the holy grail of card collecting because of their unique mystique and investment potential. Put simply, rookie cards are the first base cards issued for a player by major brands in the first year that a player appears on a card. By definition, parallels, inserts, and sub-set cards can not be considered rookie cards, and are instead often called "rookie year cards." Oddball issues and local issues (such as cards produced by a team or by a regional manufacturer) are not considered rookie cards.

With a few exceptions, a player's rookie cards can only be from one year. Just because a card says "Rated Rookie" or "Rookie Phenom" on the front does not mean that it is a true rookie card. For example, Derek Jeter appears on a number of cards from 1994-1996, many of which say "Rookie Prospect" or something similar on the front. However, his first major cards were produced by Topps, Upper Deck and other major brands during the 1993 season, and only the base cards from those 1993 sets are considered true rookie cards.


If only it were that simple . . .


In the 1980's and 1990's, card manufacturers began to issue update or traded sets at the end of the season. These small sets contained cards of players who had been traded over the course of the season and cards of hot rookie players. Because they were sold in somewhat lesser quantities than the regular base sets, they became known as "extended rookie cards," and created a situation in which a player might have rookie cards in two different years. For example, Barry Bonds has cards in the Topps, Donruss and Fleer update sets from 1986 and these are considered his "extended rookie cards." However, his 1987 base cards are also considered to be rookie cards. Changing methods of designing and selling sets and update sets have made the term extended rookie card largely obsolete, though it remains in use for a number of players from the 1980's.

Up until the 2006 season, the definition of the term rookie card had been left to collectors and price guides to sort out. However, beginning with 2006 baseball products, a new system was created by the Major League Players Association that seeks to standardize rookie cards. The Players Association created new rules about which players can appear on licensed cards and created the new "Rookie Card" logo which is designed to help clear up confusion as to which cards are to be considered rookie cards.

In the long run, this system is likely to make it easier for most collectors to quickly find rookie cards of their favorite players by tying the definition of rookie cards more closely to the actual rookie year of a player, but it has created a complex situation that is likely to last for several more years. Since the early 1990's, rookie centered products, such as the extremely popular Bowman and Bowman Chrome brands, have focused on making cards of young prospects and draftees as early as possible. As a result, many hot prospects had major league rookie cards produced only a few months after being drafted, many years before they reached the big leagues.

For example, Hanley Ramirez did not reach the big leagues until 2005, but his rookie cards were produced in 2003. Under the new rules, all of Ramirez's 2006 cards (but not his 2005 cards) are now also considered rookie cards by the MLPA and the major price guides. While this confusion is likely to persist for several more seasons, the rookie card logo and new rookie card standards have been accepted within the hobby. Hanley Ramirez's 2003 rookie cards are generally considered more desirable by collectors, but his 2006 rookie cards have also been accepted as true rookie cards by the vast majority of collectors.


New Rookie Card Logo


Because of the frequent confusion about what constitutes a true rookie card, and because of the extra value associated with rookie cards, it is recommended that you consult with a price guide or an experienced hobbyist for help determining what is and is not a true rookie card. Here at Baseball Cards Only, we follow the price guides very closely and do not play games with what we label a rookie card. If you see a card labeled as a rookie card on our site, you can be assured that it is the real deal.


Base cards are the normal cards included in and numbered as part of the main set. Generally these have a picture of one player on the front and statistics on the back. If you open a random pack of cards, it is likely to consist primarily, or perhaps entirely, of base cards. Inexpensive base cards, especially of non-star players, are often known within the hobby as 'commons'.


Sub-sets are specially themed base cards. For example, all star cards, league leaders, and playoff or World Series cards are common types of sub-sets. To be considered a sub-set, they must be included in and numbered as part of the base set, but have a different design element or theme from the regular base cards. In general, sub-sets are no harder to find than other cards within the base set.


Insert cards are generally small, specially themed sets of cards that are distributed as part of a product but that are not included in the main set. Insert cards are numbered (or sometimes have no numbering at all) separately from the main set. They are usually much scarcer than base cards from a set, and are often seeded at specific ratios of, for example, 1 in every 6 packs. Many brands include numerous different insert sets within each product.


Parallel cards are cards with the same design and numbering as base cards, but which feature a design variation that distinguishes them from the regular base cards. For example, Topps often makes gold parallels of their base cards. These cards look nearly identical to the regular base cards, except that they include gold foil and/or gold borders. In today's complex sets, it is very common for a single product to contain multiple levels of parallel cards. For instance, there might be a red, green, purple, blue and black parallel of a single base card, each with different colors of foil on the front. Many parallel sets are serial numbered to further distinguish them from the base set. Almost without exception, parallels are rarer and more valuable than regular base cards. Increasingly, insert sets are also being produced with multiple parallel versions.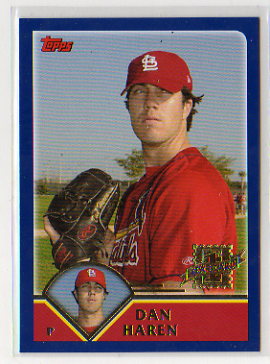 Base Card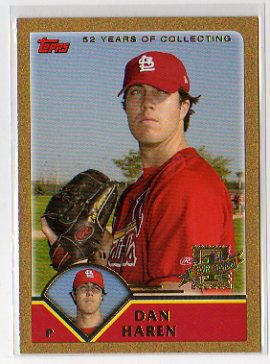 Parallel Card




Game used cards are a specific type of insert card (and, rarely, base card) which include pieces of game used material associated with a specific player on the card. The most common types of game used materials are pieces of game worn jerseys and pieces of game used bats, although game used balls, hats, fielding gloves, and other types of memorabilia are occasionally featured on game used cards. Game used patch cards, which feature colorful swatches of the patches from major league uniforms, are among the most highly sought after game used cards due to their beauty and comparative rareness.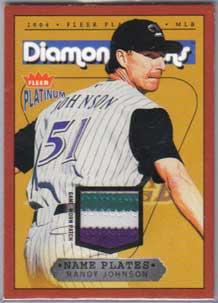 GU Patch Card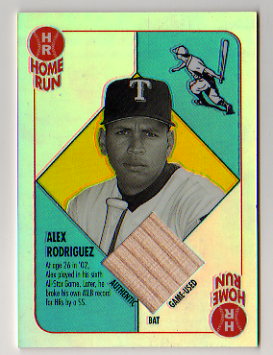 GU Bat Card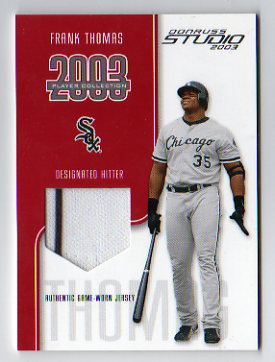 GU Jersey Card




Most sets produced today include certified autographed cards, which can be insert cards or, especially in the case of rookie cards, part of the base set. Autographed cards feature an autograph of one or more player on the card, and the autograph is certified as authentic by the manufacturer. Autograph cards tend to be among the rarest types of cards and often are more valuable than nearly any other type of card.


A refractor is a specific type of parallel card closely associated with products produced by Topps. Refractor cards have a metallic surface which refracts a rainbow-like spectrum of light. Refractors have been one of the most popular parallels on the market for over 10 years, especially those inserted as parallels to the rookie cards in Bowman Chrome products.


Serial numbered cards are base cards, parallels or inserts that have serial numbers on them. This number shows the total print run of the card and the specific number of the card within the print run. For instance, a serial numbered card might say 26/100, which means it is the 26th of a total of only 100 such cards made. Serial numbers are generally stamped in foil on the back or sometimes the front of a card. Occasionally, serial numbered are written by hand by the manufacturer. A variant on the serial numbered card is the sequentially numbered card, which lists only a single number, for instance "58" meaning it is the 58th such card made.


Tiffany sets were early parallel sets created by Topps in the 1980's. They were originally sold only as factory sets and feature cards printed on premium card stock with extra gloss, making for more handsome versions of the regular Topps issues. There are occasional "tiffany" parallels that continue to be made by all manufacturers to the present day.


Die-cut cards are cards that have been cut by lasers into intricate, non-standard shapes. They are frequently used to distinguish parallel cards, though numerous insert sets and even some base sets feature die-cut designs.


Simply put, vintage cards are old baseball cards. The exact definition of what constitutes a vintage baseball card varies tremendously, but the most common usage within the hobby restricts the term to cards from 1979 and earlier.


A sealed set, usually in a special box, produced by the manufacturer. These differ from hand collated sets, which have been put together from packs by collectors. Factory sets often include special insert cards that are not available elsewhere.