Derek Sanderson Jeter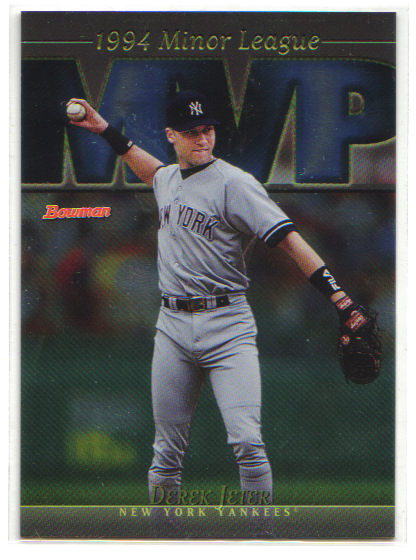 Born June 26, 1974
Played 20 seasons in Major League Baseball for The New York Yankees

A five-time World Series champion, Jeter is regarded as a central figure of the Yankees success of the late 1990s and early 2000s for his hitting, baserunning, fielding, and leadership. He is the Yankees all-time career leader in hits (3,465), doubles (544), games played (2,747), stolen bases (358), times on base (4,716), plate appearances (12,602) and at bats (11,195) ~Wikipedia

Minor leagues (1992–95)
Major leagues (1995–2014)
Final season (2014)

Jeter has been one of the most heavily marketed athletes of his generation and is involved in several product endorsements. His personal life and relationships with celebrities have drawn the attention of the media throughout his career. Teammates and opponents alike regard Jeter as a consummate professional and one of the best players of his generation.

The Yankees drafted Jeter out of high school in 1992, and he debuted in the major leagues in 1995. The following year, he became the Yankees starting shortstop, won the Rookie of the Year Award, and helped the team win the 1996 World Series. Jeter continued to contribute during the teams championship seasons of 1998–2000; he finished third in voting for the American League (AL) Most Valuable Player (MVP) Award in 1998, recorded multiple career-high numbers in 1999, and won both the All-Star Game MVP and World Series MVP Awards in 2000. He consistently placed among the AL leaders in hits and runs scored for most of his career, and served as the Yankees team captain from 2003 until his retirement in 2014. Throughout his career, Jeter contributed reliably to the Yankees franchise successes. He holds many postseason records, and has a .321 batting average in the World Series. Jeter has earned the nicknames of "Captain Clutch" and "Mr. November" due to his outstanding play in the postseason. ~Wikipedia

Baseball Cards Only has over 1,000 Derek Jeter cards in our database ranging many years.